10 Color Combos for a Spring Wedding
After the proposal comes the next big question, what will our colors be! Choosing the right color selection determines key factors for the entire wedding — floral arrangements, decorations and bridesmaid dresses. As a destination-wedding venue our brides typically draw inspiration for their colors from the beach. Whether a nautical theme or a turquoise takeover the Gulf of Mexico leaves an impression on each bridal party. Here are five Hilton Sandestin signature-wedding colors to keep in mind when choosing yours!
Navy & Yellow — Nautical Themed

Being near the ocean brings out a couple's inner seafaring ways. They generally turn to navy and white for the traditional nautical theme. Adding in yellow gives your color scheme a touch of spring that is the perfect compliment to navy. Most brides incorporate the yellow with sunflowers, using them as bouquets, boutonnieres and centerpieces. Occasionally a groom will have his groomsmen in khaki suits when his colors are navy and yellow, a modern twist on the historic black tuxedos. *The Knot suggests Navy, Yellow and Light Blue as a fun spin on this color combination
Black & Pink — A Pop of Personality
Not all decisions are as simple as black and white, sometimes you have to throw your own pop of personality into the mix. For brides at Hilton Sandestin Beach that spark of color is typically pink. Adding your favorite color to black and white helps keep your reception simple and elegant yet leaves your personal mark on the event. We suggest adding colored elements in subtle places — details on the cake, mixed into the bouquets, centerpieces, bridesmaid dresses and groomsman ties. *The Knot suggests adding Pale Green to Black and White for an elegant spring color scheme
Coral & Mint
Mint is a color that is flattering for most every body type and skin tone. This pastel shade with the emerald, blue-green backdrop of the Gulf creates a picturesque setting.
Coral & Turquoise 
Taking a page out of the Gulf's book — some brides don't hesitate when choosing turquoise. This rich and vibrant color is perfect for paler skin tones and pairs well with both khaki and black groomsmen suits. With coral detailing in table settings and up lighting the turquoise will pop in a room full of colors.
Coral & Any Other Shade of Green
Coral is the perfect color compliment to any shade of green and can be used as a primary color for bridesmaid dresses or as a secondary color for floral arrangements and decorations. Consider trying peach instead of coral, a refreshing spring color and still an excellent compliment to any shade of green. *Try this suggestion from The Knot, an inventive tackle on Coral and Mint — Gold, Peach and Green
Enjoy these five unexpected wedding color combinations The Knot calls "anything but bland."
All images curtesy of The Knot 
Aqua, Cherry Red and Khaki
Let these bright shades bring life to your springtime nuptials.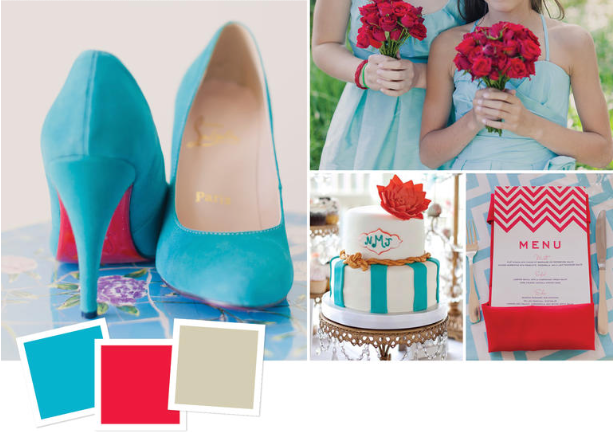 Tangerine, Orange and Yellow
Inspired by sunshine, with a color palette like this it's sure to have everyone smiling.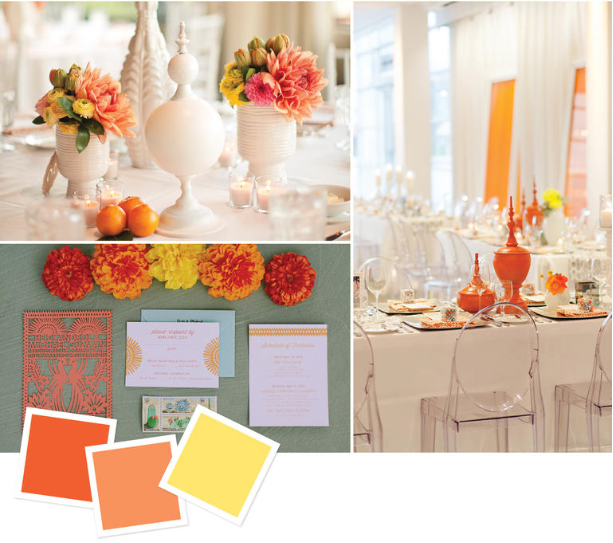 Cinnamon, Yellow and Beige
For those who love fall but prefer a spring date, these colors are the perfect match.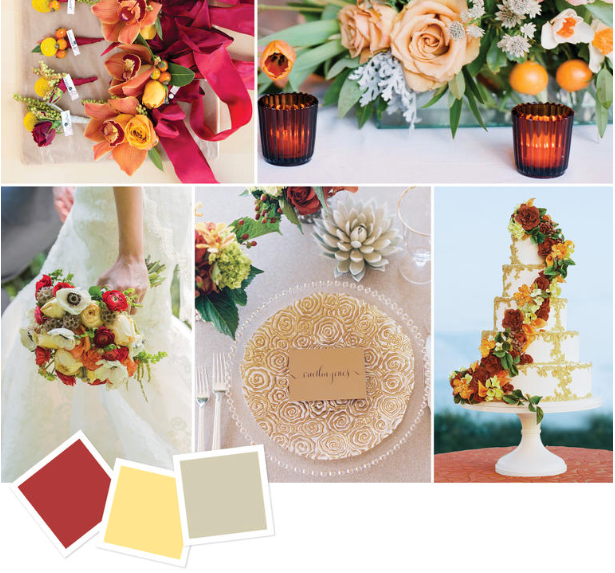 Magenta, Poppy and Yellow
With colors this vivid the floral arrangements are certain to wow your guests.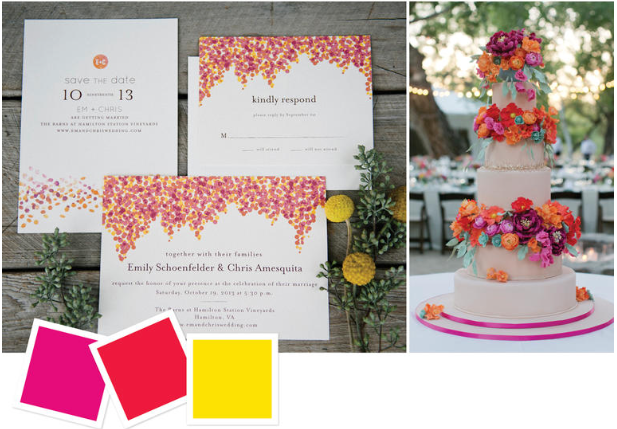 Chartreuse, Powder Blue and Cornflower Blue
Embrace the unexpected with these colors, both charming and elegant.